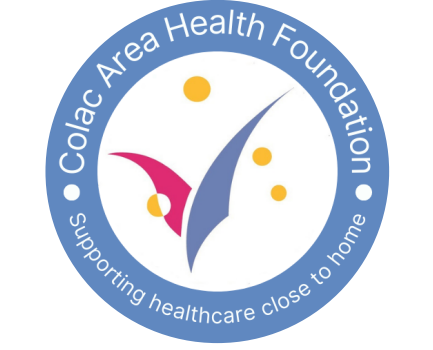 The Foundation is guided by a Board of Directors, comprised of individuals who live and work within the Colac district.
They willingly give their time without being paid. There is one paid staff member (Executive Officer) working 3 days per week.
Max is a Certified Financial Planner who established the business Adviser Group FP. Max is an active member of the community having been awarded a Life Membership of the Apex Club of Colac, and is currently a member of the Rotary Club of Colac West, State Delegate of MLC/Garvan Advisory Board, and Treasurer of Otway Business Inc.
Wayne O'Brien (Treasurer)
Wayne is a Chartered Accountant and a partner of Crowe Horwath, a local accounting firm. Crowe Horwath is part of Findex, a national financial services group. He joined Crowe Horwath in 1987. Wayne is an active tennis player and avid walker and has a wide involvement in community committees.
Richard Riordan (Director)
Richard is an active community participant; former Chair of Colac Area Health and current board member for Colac Area Health Foundation. He has been a driving force behind the establishment of con.ceit Corangamarah Art Prize and Colac Area Health Foundation. He was former board member for the Corangamite Catchment Authority and previously served as school councillor at Sacred Heart Primary.

Richard worked for 25 years in his family retail and service businesses. In October 2015 Richard was elected at a by-election to the Victorian Legislative Assembly as State Member for Polwarth.
Paul Cunningham (Director)
Paul Cunningham is the Area Manager, ANZ Small Business for South West Victoria covering Geelong, Colac, Warrnambool and Ballarat regions. Paul is a 29 year career banker currently leading a team of Business Banking Managers and Small Business Specialists servicing the Commercial, Health and agriculture markets of South West Victoria. Paul's passions revolve around customer relationships and adding value to customers business by partnering them with high levels of service, and striving to assist customers to fulfil their Business and Personal visions.

Paul, via ANZ, is a member of the Colac Otway Chamber of Commerce, sponsors a number of business events and is involved in other charitable initiatives. His passion is powerboat racing, having achieved a number of awards. Paul is married and has 2 daughters Paige and Hannah.
Maree is a retired Primary School Teacher and a member of the Victorian Institute of Teaching. She is an active member of the Rotary Club of Colac and has been recognised as a Paul Harris Fellow, a prestigious award for exemplary work in community service or helping those in need. Maree is also a member of VIEW, supporting the local community. Maree is a joint director of Cobden Buslines, married to husband Rocci and has a son, Aaron and daughter, Carlene.
Sue is a registered Nurse and Nurse Immuniser and also holds a Diploma of Management. She has spent many years working with community groups as a Public Health advocate and volunteering with junior sports groups, Colac Turf Club and Meriba Service Club. Married to Terry, she has 3 daughters and 8 grandchildren. Her main hobby is gardening.
Jack is the proprietor of the Water Supply Specialists business in Colac which retails, installs and maintains water supply systems for agricultural farming enterprises. He has extensive experience as a General Manager and CEO in manufacturing, primarily in the food industry. Core competencies include leadership, corporate governance, sales and marketing, cost management and innovation and project management.

Married to Patricia, he has a daughter, Harriette. He is also active in various sports including rowing, cycling and tennis.
Debbie McCarthy (Director)
Debbie is the Office and Finance Manager at Victorian Group Training. Debbie saw the opportunity to join the Colac Area Health Foundation as a way to help make a difference in her local community, she has always had a passion for the Colac community and been involved in school and sporting committees.
Debbie has three sons, Hayden, Lachlan and Isaac.
Meagan Compton (Director)
Born and bred in South West Victoria, Meagan is lawyer and has been a director of local firm SLM Law since 2005. She is the secretary of the Western Eagles Football Netball Club and has served on other local boards including the Sacred Heart school board and the Bendigo Bank Community Enterprise Board. With two daughters Paige and Mia ,who go to school in Colac and her husband Troy who also runs a local business, Meagan is committed to the Colac Otway region and is eager to bolster the local health care services available to regional Victorians.
Minnie Constan (Director)
Minnie Constan is an Event professional with over 20 years experience delivering world class events in numerous markets, both for and not-for profit.

Before her time in events Constan assumed the position of Group Sales Manager with APN News and Media, at the time, Australia's largest operator of radio broadcasting and outdoor advertising as well as being Australia's leading regional publisher.

Constan is a recognised advocate in the industries she serves and enjoys giving back to the community through her work with the Foundation. Interests include design, architecture and gardening.
Elle MacLeman (Executive Officer)
Elle has worked in healthcare for the last 15 years, working in both clinical and community-based contexts. Having more recently stepped into the commercial world, gaining skills in marketing, strategic planning and event facilitation, Elle understands both Colac Area Health's clinical context and the workings of the private sector.

Part of what drives Elle to return to the public healthcare system is the ability to service her new community. 'Community is an essential part of human nature and finding ways to foster and serve the Colac community is a major driver for taking on this role.'