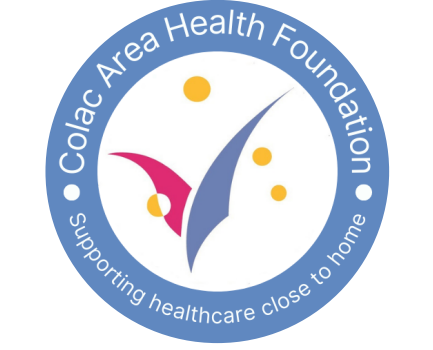 Colac Area Health Foundation was founded in 2011 to help extend the vision of Colac Area Health "… to be a recognised leader in the development and provision of responsive, integrated health care."
The Foundation is the vehicle through which our community can contribute to further develop facilities and services of Colac Area Health.
The Foundation is guided by a Board of Directors, comprised of individuals who live and work within the Colac district. The Foundation Board diligently manages the investment of funds raised through partnerships, fundraising events, donations and bequests.
Funds raised contribute to the purchase of new equipment, the introduction of new services and other projects for Colac Area Health.
Colac Area Health Foundation is registered with the Australian and Not-for-profits Commission (ACNC). Donations of $2 or more are tax deductible.
Our mission is to help Colac Area Health deliver Specialist Healthcare close to home and in so doing we strive to live true to the values that drive us
Appreciation
We are grateful for the generosity of our donors and volunteers who through fundraising help purchase medical equipment and deliver specialist services locally – keeping specialist healthcare close to home
Community
We are dedicated to those around us sharing a sense of belonging, togetherness and an alignment of shared goals
Collaboration
We will actively work together and support each other to provide the best possible outcomes for our community
Commitment
We are committed to building long-lasting partnerships and to deliver quality and excellence in everything we do
Integrity
We honour our word and act with honesty and transparency, holding ourselves accountable for our decisions and actions
Also see: ACNC Registration – Colac Area Health Foundation